Back to all posts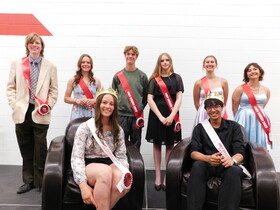 Sundre High School's 52nd May Queen has now drawn to a close.  It was another great year for the students of Sundre High!  Students, staff, parents, and community members worked together to raise $29,210.  The money will be allocated to a variety of Sundre High leadership projects and activities in the coming year. The grade 11's raised $11,578 to take top honors.  The Class of 2024's win resulted in Jorja Packer and Henrey Catubig being crowned as May Queen Champions for the 2022-2023 school year.  Congratulations to all students who worked during May Queen 2023 - amazing results!  You have certainly made us proud!
2023 Sundre High School May Queen Candidates: 
Back Row – Tyson Thornley, Bella Packer (gr. 9), Ryder Dach, Tess Shand (gr. 10), Makayla May, Aimee Walton (gr. 12) Front Row – May Queen Champions Jorja Packer and Henrey Catubig (gr. 11)
May Queen is one of the most impactful activities our school does in the community.  Although a great deal of money is raised, May Queen is not just about money and competition.  It's about a community working together to teach youth about desirable personal characteristics such as responsibility, commitment, initiative, leadership, and respect. 
Thanks to all of our parents and to those employers and community members who hired, supervised or drove our students.  Your continued support is greatly appreciated.